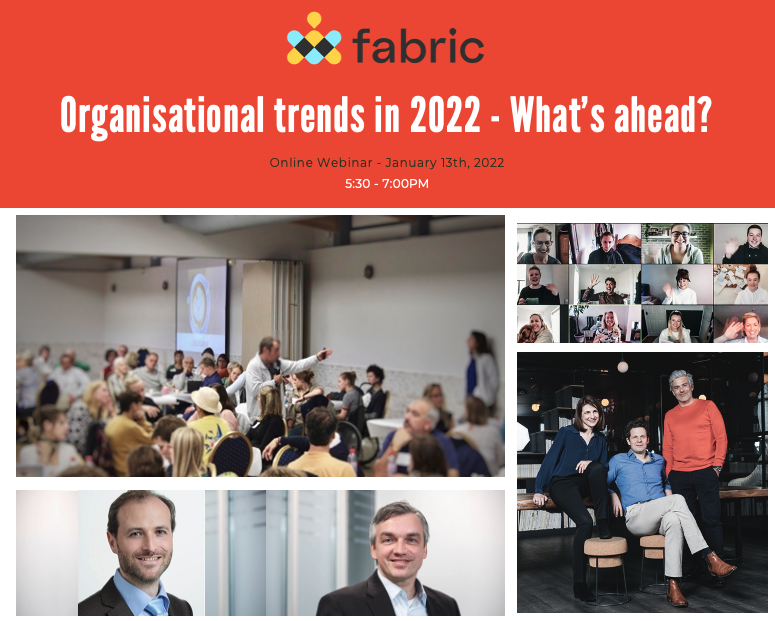 The past two years have seen an acceleration in a number of key trends within companies, with remote working and new operating models emerging, that are more decentralized in order for companies to thrive.

At Fabric, we have a had a great window into these transformations as part of our work in multinational companies, and helped them take the next step, using collective intelligence and self-organized team approaches.

So, to kick off 2022, we are organizing a "Future Trends" webinar in our field of work.

The agenda would include:

1. Fabric's Managing Partners Mickael Drouard, Axel Zimmer and Chloe Grabli will share their perception of the changes taking place based on their recent experiences over the past 12 months.

2. Two companies will also present impactful projects of the year 2021
BAYER: Frank Poschen – HR Business Partner Pharma Research & Development  – will talk about Anchoring sustainable culture change through teams.
ENGIE: Vincent Ruf – Head of Talent Experience – will talk about the mobilization of the community of leaders to lead in uncertainty and prepare Engie for tomorrow.
3. Then together, we will elaborate on the challenges of organizations in 2022.
If you are an executive, a transformation manager, a HR manager or otherwise responsible for evolution of your company: this webinar is for you!
We look forward to seeing you on January 13 from 5:30 to 7:00pm (CET) to share and build together.