On Jan 13, 2022, Fabric, an organizational development consultancy, led a webinar to share learnings and insights on key Organizational trends in 2022 and beyond.  An international audience of approximately 80 individuals from about eight different countries attended.  Comprising three distinct perspectives, we heard from consultants at Fabric, Business leaders at Bayer and Engie and individual audience member participants.
Key points from the five headlining speakers included:
Mickael Drouard, Managing Partner at Fabric, noted that the very idea of a company has and should continue to shift towards a set of values and culture around a common purpose with a flexible workforce.  This replaces the outmoded historical sense of a company as a physical space with contracted employees. Two elements have generated that change. The first is remote work.  Surveys show both that employees prefer working remotely, and companies noticed a higher productivity with a remote workforce.  Secondly, businesses are transitioning to a more agile model by seeking functional skills that are engaged on demand.  A 2020 Randstad Survey revealed that 77% of companies in Europe seek workforce agility with staff on demand to better manage growth and address the war for talent.  Culture therefore becomes a necessary binding element required to bring remote and varied workforce together to execute on business goals.   But how to forge a successful cultural identity?  Mikael offered the following suggestions:
#1: A common project now defines the boundaries of a team (not employment contract).
#2: Businesses should develop social capital, rather than human capital (developing teams instead of individuals).
#3: Mobilize everyone around a common understanding of the value they create collectively.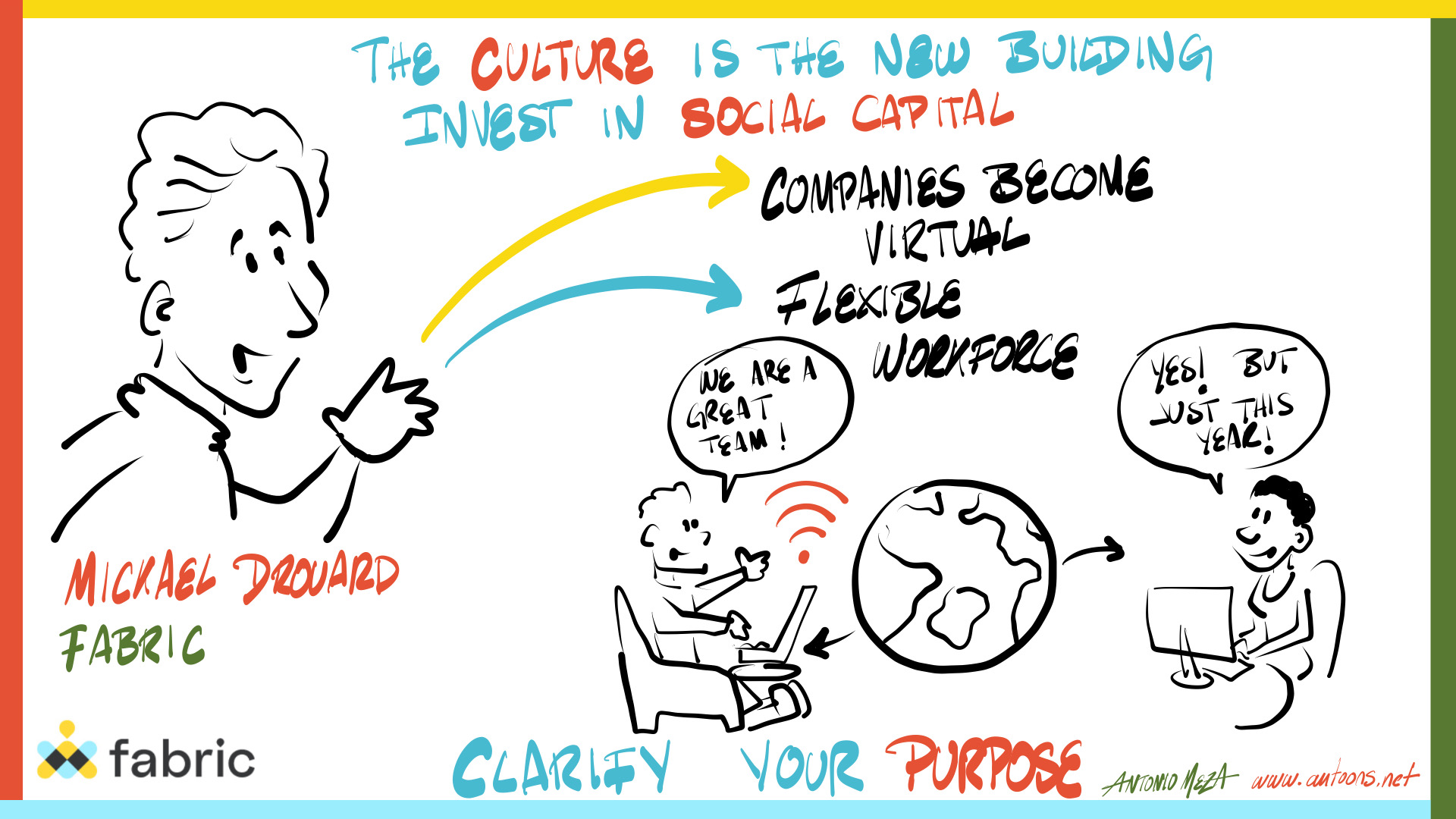 Chloé Grabli, Managing Partner at Fabric, shared a 2nd trend.  She expects to see corporate leaders focus on building empowered teams, rather than developing individual leaders. In 2021, Fabric clients have almost all encountered the same issues, regardless of their industry. What's the best way to transform the culture to empowered teams?  How can it be accelerated and scaled? Chloe identified four ingredients to achieving these objectives:
#1: Upskill your team's capacity to function together.
#2: Appoint a facilitator to each team to ensure that the team's work rituals and practices are implemented.
#3: Foster diversity and inclusion
#4: Continuously quantify the value creation of teams.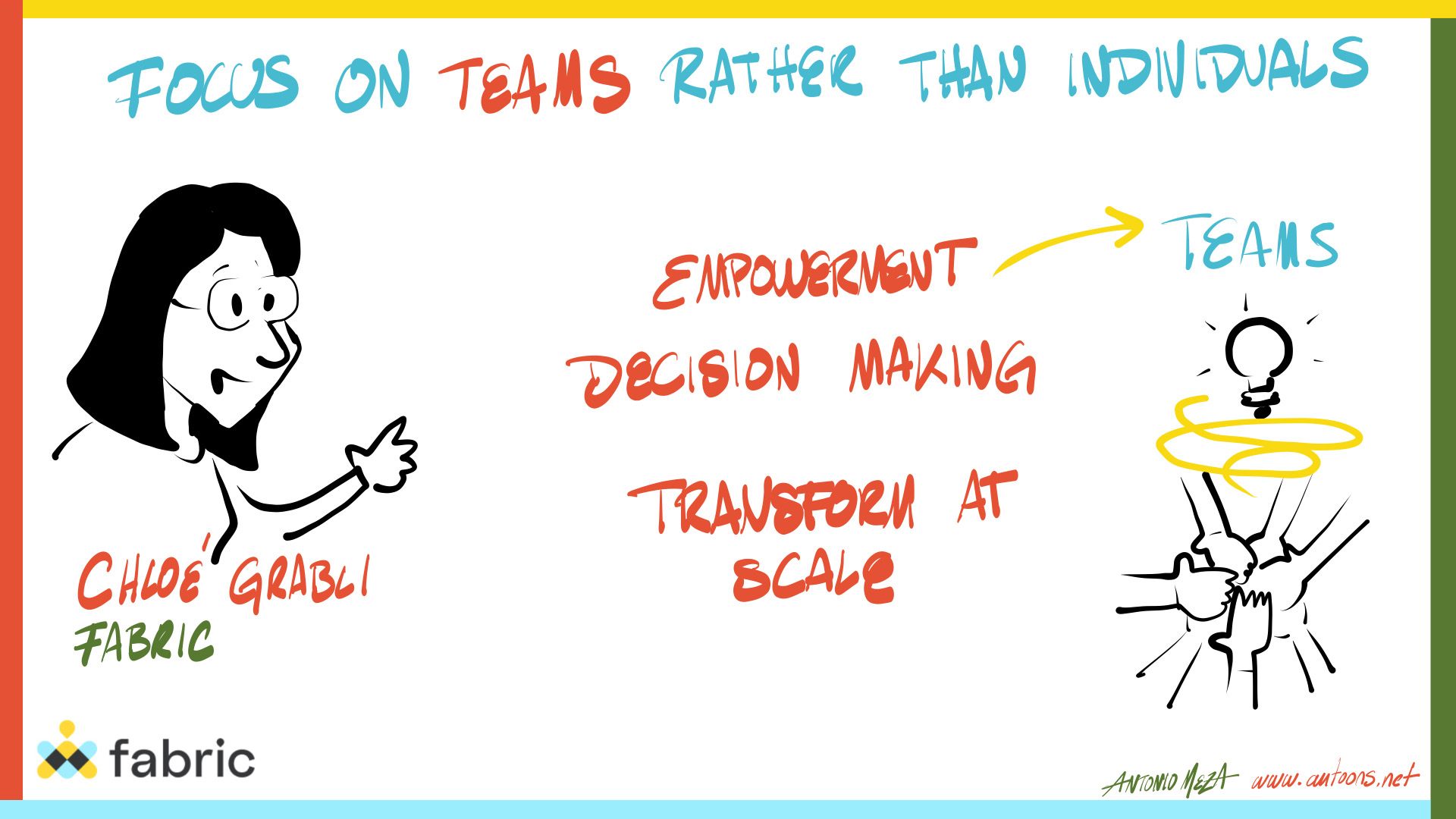 Axel Zimmer, Managing Partner at Fabric, discussed a 3rd trend he called "Responsible empowerment".  This idea is in reaction to several challenges.
First, managers are lost and can feel disempowered due to changing roles and the need for additional training.  Second, working in teams can generate less accountability from some individuals.  And lastly, too much consensus leads to no decisions or even chaos.
According to Axel, today, the manager's role is even more critical as the leader of an empowered team.  He called out few suggestions:
#1: Invest in "Team leads" that are focused on managing the coherence between all the team's activities and the team's mission.
#2: Bring razor-sharp clarity to people's role to create proper accountability and decision making.
#3: value the act of participating in something greater than ourselves as it will increase employee performance.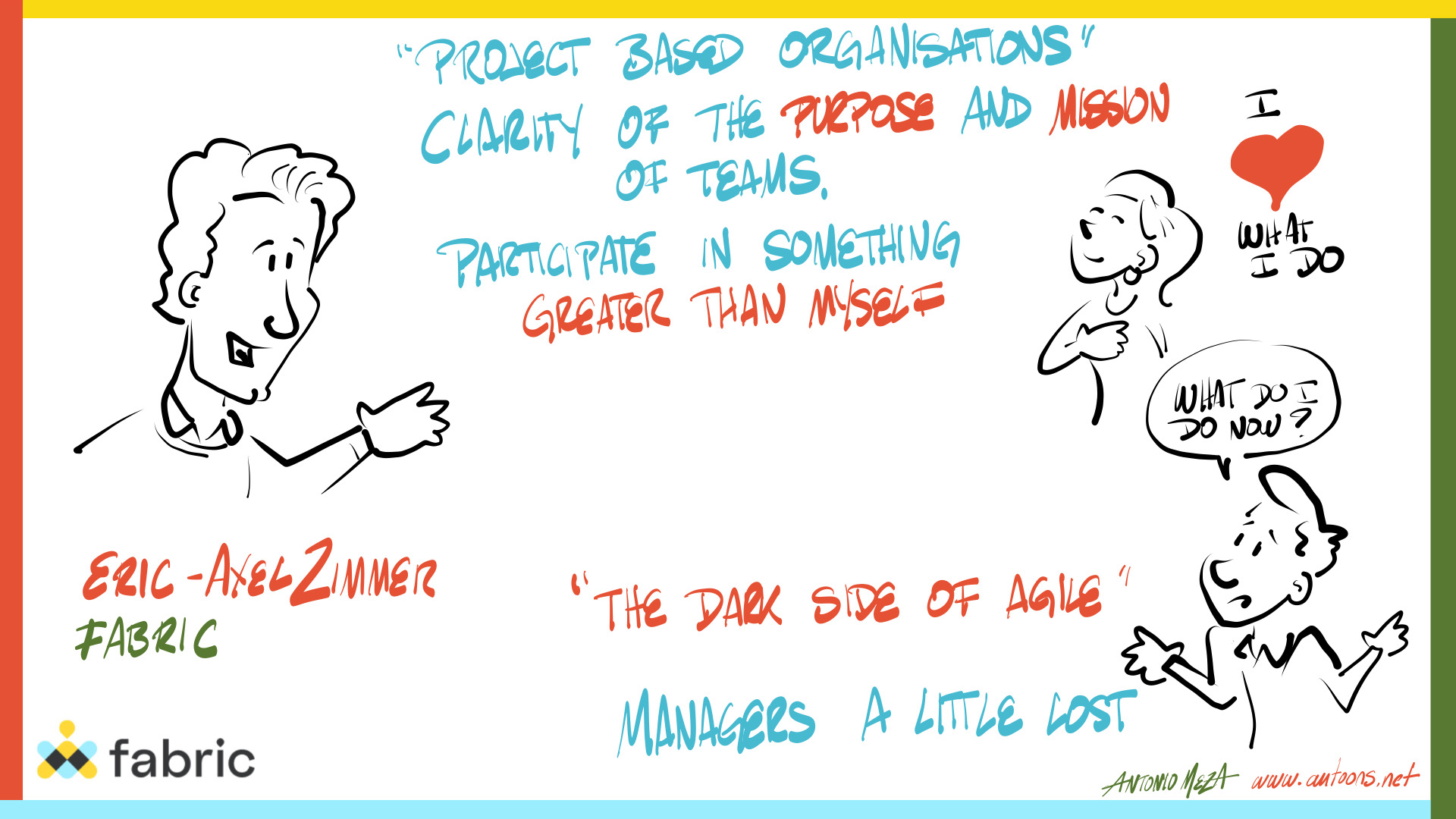 The first business perspective came from Frank Poschen, Vice President, Global Head Talent Lead at Bayer Pharmaceutical.  The pharmaceutical division of Bayer, a business with a 150 year history and more than 40,000 employees worldwide, is facing a scientific and digital revolution. Disrupting companies like Google and Alibaba and small innovative biotech companies are competing to offer breakthrough innovations.  Bayer has predicted that 80% of its future growth until 2030 will come from areas in which it is currently not leading.  Feedback collected from about 350 internal and external stakeholders showed that: employees were too internally focused, risk adverse, too bureaucratic and that there was too much hierarchical control. With the help of Fabric, Bayer designed a culture change programme.  This commenced with senior leaders retraining with new ways of working and a role modelling behaviour.  For the rest of the organization, they collaborated on a "train the trainer" programme for internal Bayer "culture coaches".  Fabric trained those culture coaches to facilitate experiential journeys on new ways of working for internal Bayer teams that were facing business challenges. The new ways of working are directly connected to the culture traits that they want to activate.  The objective is to build out a routine that becomes second nature and the idea is that by adopting new working practices they will change the culture. Its goal is the have 20% of the workforce experience a culture change journey by the end of this year.  To create a lasting change, the company will focus on role modeling behaviorfrom top leaders and internal team trainings to adopt new ways of working linked to new culture traits.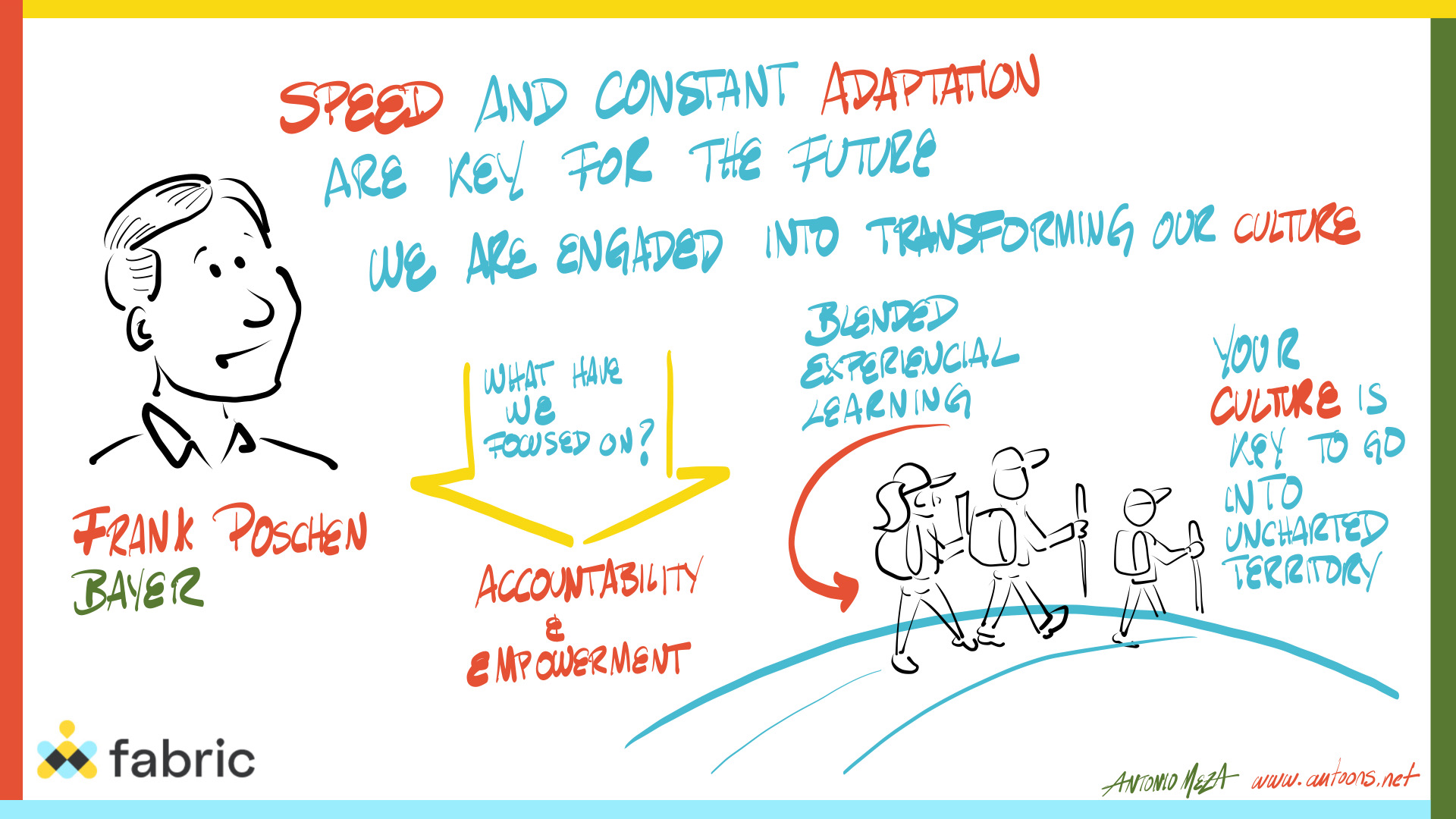 The second business perspective came from Vincent Ruf, Head of Talent Experience Design at Engie. Engie is one of the largest utilities companies in the world. In 2020, the company faced multiple external and internal challenges including COVID, a CEO transition, and a division of Engie's 140,000 employees into two new companies. Fabric helped design a programme to create a highly engaging development journey for top talent and also to craft a new strategy in light of the reorganization.  It co-constructed, with the collaboration of some of their top talent, a multi-month programme with two parts: the first focused on giving insights leading in an uncertain environment and a second on strategic and business questions facing the new CEO, Catherine McGregor.  About 40 proposals of experiments to address existing challenges were generated from participating top talent.  Key ingredients for the success of the programme were:  using a co-construction approach to build the journey with all the stakeholders, ensuring that each detail is built with purpose, relying on sponsorship and upper management to set the tone.  According to Vincent, if you explain why and where you want to take people, they will follow you, and that is what leadership is.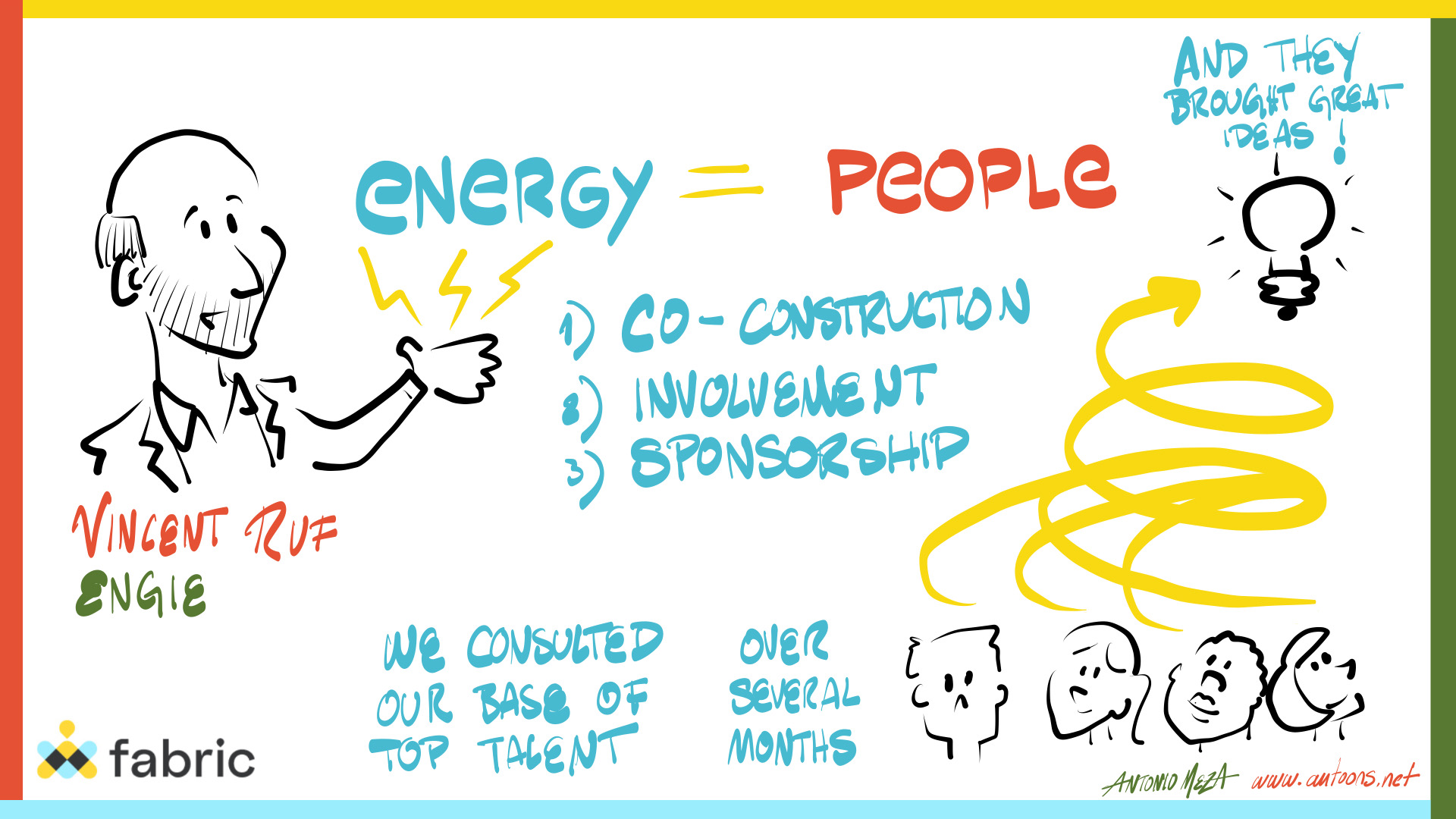 Following the talks of the keynote presenters, the audience shared some personal perspectives.  The following question ensued: How is it possible to maintain momentum during transformations?   One strategy, according to Axel at Fabric is to create practices that will model chosen culture traits.  The practices, mostly inspired by sociocracy 3.0 and other new approaches to self-organisation, are designed to ensure that people will get more energy from using these practices.  At Fabric, we believe that these practices stick because over time people will look forward to these new ways of working. These practices will generate new behaviours that will in turn generate a new culture.
To wrap-up, Axel gave advice on how to get started on a culture transformation journey when the executive support is not there.  He suggested finding one team that was willing to experiment.  If the experiment is successful the change will organically be set in motion.
Chloé added that the themes of "teams" and "empowerment" repeated during the webinar, which suggested these are key topics to develop for 2022.  Mickael reiterated that the presence and skills of a facilitator were key to ensure the quality of presence and participation that will generate collective intelligence and help team level up their game.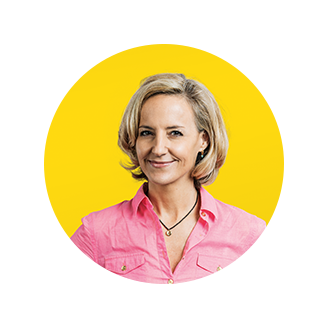 I bring a bi-cultural background and 16 years of experience in multi-national marketing companies to drive cultural transformation and business shifts in your organisation. My approach integrates a consulting and coaching method to effect integral and sustainable transformation around strategic objectives.
Alexandra de Navacelle
Senior Consultant
Learn more on Linkedin